Our To-Do-lists are pretty dull and are so self centered….. The movers and shakers have different priorities and thought process. Not to say they ignore domesitc issues – they just elevate themselves to a a higher level and do the bigger things… small petty things are just taken care of.
Here is Leonardo Da Vinci's To_Do-List. Da Vinci would carry around a notebook, where he would write and draw anything that moved him. "It is useful," Leonardo once wrote, to "constantly observe, note, and consider." Buried in one of these books, dating back to around the 1490s, is a To-Do list.
NPR's Robert Krulwich had it directly translated from his native Italian.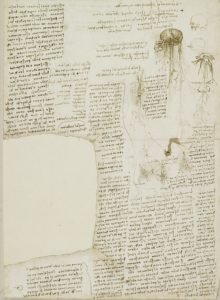 [Calculate] the measurement of Milan and Suburbs
[Find] a book that treats of Milan and its churches, which is to be had at the stationer's on the way to Cordusio
[Discover] the measurement of Corte Vecchio (the courtyard in the duke's palace).
[Discover] the measurement of the castello (the duke's palace itself)
Get the master of arithmetic to show you how to square a triangle.
Get Messer Fazio (a professor of medicine and law in Pavia) to show you about proportion.
Get the Brera Friar (at the Benedictine Monastery to Milan) to show you De Ponderibus (a medieval text on mechanics)
[Talk to] Giannino, the Bombardier, re. the means by which the tower of Ferrara is walled without loopholes (no one really knows what Da Vinci meant by this)
Ask Benedetto Potinari (A Florentine Merchant) by what means they go on ice in Flanders
Draw Milan
Ask Maestro Antonio how mortars are positioned on bastions by day or night.
[Examine] the Crossbow of Mastro Giannetto
Find a master of hydraulics and get him to tell you how to repair a lock, canal and mill in the Lombard manner
[Ask about] the measurement of the sun promised me by Maestro Giovanni Francese
Try to get Vitolone (the medieval author of a text on optics), which is in the Library at Pavia, which deals with the mathematic.
You can just feel Da Vinci's voracious curiosity and intellectual restlessness. Note how many of the entries are about getting an expert to teach him something, be it mathematics, physics or astronomy. Also who casually lists "draw Milan" as an ambition?
Later to-do lists, dating around 1510, seemed to focus on Da Vinci's growing fascination with anatomy. In a notebook filled with beautifully rendered drawings of bones and viscera, he rattles off more tasks that need to get done. Things like get a skull, describe the jaw of a crocodile and tongue of a woodpecker, assess a corpse using his finger as a unit of measurement. On that same page, he lists what he considers to be important qualities of an anatomical draftsman. A firm command of perspective and a knowledge of the inner workings of the body are key. So is having a strong stomach.
You can see a page of Da Vinci's notebook above but be warned. Even if you are conversant in 16th century Italian, Da Vinci wrote everything in mirror script.
<This article was condensed from http://www.openculture.com/ for personal perspective.>